MyTrip Connector & Safaris
Health Information & Travel Tips
Tanzania travel Packing Gear List
Check Also Mt kilimanajaro and Mt Meru gear list , Items can be hired from us by prior request. To assist in shopping and packing it is helpful to print out a copy of this recommended kit list and tick off boxes as each item is acquired or packed. Please request a printable check-list from us if you feel this would be useful to have.
Baggage and Sleeping (not applicable to lodge safaris)
– Large Holdall, to contain everything you'll need while on safari
– Daysack, 25-35 litres, for personal use while on safari; for ready-access items
– Sleeping Bag, rated to -10C if climbing Kili with us, or +5C if on safari only
– Waterproof rucksack liner or heavy duty plastic sack (only if incorporating a multi-day walking safari)
– Elasticated waterproof rucksack cover (only if incorporating a multi-day walking safari) NB: sleeping mattresses are not required as we provide these for you.
Clothing
– Sweat-wicking T-shirts / vests – Fleece.
– Insulated down jacket or similar, (only if climbing Kilimanjaro or Oldonyo Lengai climbing or Mt meru climbing) –
– Down mittens or similar, (only if climbing Kilimanjaro or Oldonyo Lengai climbing or Mt meru climbing)
– Thermal long-johns for summit night, (only if climbing Kilimanjaro or Oldonyo Lengai climbing or Mt meru climbing)
– Lightweight walking trousers (for active safaris that incorporate hunting or trekking, avoid jeans or heavy cotton as they chafe and dry slowly)
– Underwear (briefs are usually better than boxer shorts which gather and chafe)
– Very good quality hiking socks and thin liner socks. (We advise that socks should be at least a size too small otherwise they stretch and bunch causing blisters)
– Breathable lightweight waterproofs
– jacket and trousers, (for active safaris that incorporate hunting or trekking),
– Waterproof walking boots, sturdy and worn-in, (if your safari incorporates active elements
– otherwise comfortable leather shoes will suffice) – Calf gaiters, (for ascents of Kilimanjaro , Oldonyo Lengai climbing or Mt meru climbing
– Balaclava, (for ascents of Kili or Oldonyo Lengai only) – Wide brimmed sun hat to protect face, ears and neck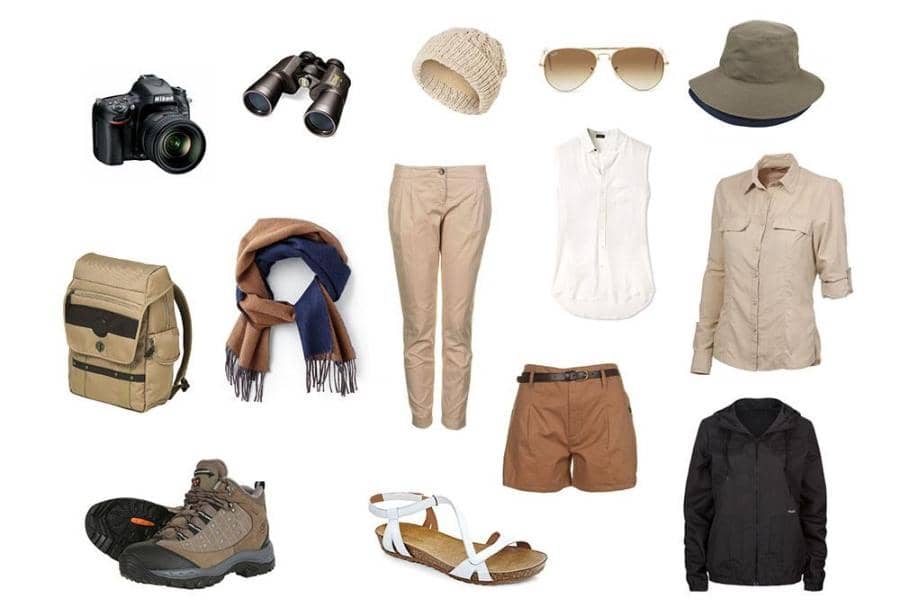 Hygiene
– Toothbrush, toothpaste & deodorant –
Flat packed Wet Ones, travel wipes, or similar for personal hygiene on the mountain.
– Kleenex tissues in plastic travel pouches or toilet paper
– Hairbrush / comb
– Sanitary products
– Lip salve with UV protection
– Vaseline, to prevent chafing skin and heel friction blisters
Health
– Malaria Tablets (if you choose to take these. Most will seek advice from their GP. Note: some anti-malarial courses need to commence several weeks before departure
– Sun cream. Note: some argue that most sun creams are carcinogenic and either organic sun barriers or loose fitting clothes that cover the skin are regarded by many as preferable.
Documents
– Passport (with additional 6 months' validity after proposed trip return date)
– Tanzanian Entry Visa. (If flying to Nairobi and taking the bus to Arusha, Kenyan visas can be bought on arrival at Nairobi airport.)
– Air Travel Documents – Cash in US dollars in denominations of $10 and $20 (tipping allowance and local purchases, taxis, meals, etc)
– Credit Cards (recommended for eventualities only & obtaining extra cash from ATMs)
– Travel Insurance Documents
– Vaccination Certificates (where applicable) – Traveller's Cheques are not recommend as they are subject to extremely poor conversion rates in Arusha.
Other stuff
– Camera and film or Digital Camera and spare memory cards & batteries & charger
– Sunglasses with UV-filter lenses
– High energy snacks (Cereal bars, dried fruit and nuts)
– Spare Contact Lenses and fluid, if worn – Watch
– Head torch with spare batteries
– Water bottles & Camelbak (3 litres carrying capacity if climbing)
– Water Purification Tablets / Iodine drops
– Ear Plugs (in the event of attempting to sleep near barking dogs)
– Plastic bags (for dirty washing, used wrappers, etc.)
– Telescopic walking poles (optional – and for use on active safaris & climbs only)
– Mobile phone. There is signal reception in much of the national parks and safari areas. Note: It is a very good idea to unlock your phone before you come out so that a local SIM card can be used. This will make calls home very inexpensive.
Personal Small First Aid Kit
– Pain Killers (Ibuprofen)
– Diamox (Acetazolamide) if you are climbing Kilimanjaro – Paracetamol
– Zinc oxide tape and small scissors.
– Compeed Blister Pads
– Immodium / Loperamide anti-diarrhoea tablets
– Any medication you normally use
– Dioralyte sachets or similar re-hydration packs. Note that your guide or safari liaison will carry a more comprehensive medical kit containing additional Acetazolamide, Ibuprofen, Anti-inflammatory gel, bandages, Loperamide, Amoxycilin, Oral Dexamethasone, and several other items.
Specialist Equipment for Hunters & Survivalists
– Small, sharp, strong high-quality lock-knife. STT recommends Buck Knives. But please don't bring a very expensive model.
– Leather-palmed fingerless gloves (unless you have very tough skin on your hands)
– Goggles – only for those requesting a night hunt, as torches cannot be used once we are near to the prey, and the risk of damage to unprotected eyes by thorns is high
– Knee and elbow pads are not strictly necessary, however serious survivalists or Special Forces students who will be spending several days in Eyasi and wish to perfect their bush CTR & closing skills, may benefit from this protection. Note: Please bear in mind that while the Hadzabe only wear a leather skin for protection (and sometimes not even that), they are very robust and are willing to accept the risk of injury perhaps more readily than most of the rest of us.
Are you planning to visit Tanzania?
MyTrip Connector is your solution. We'll take you to the beautiful places in Tanzania and make sure you enjoy your holiday!