6 Days Ol Doinyo Lengai Safari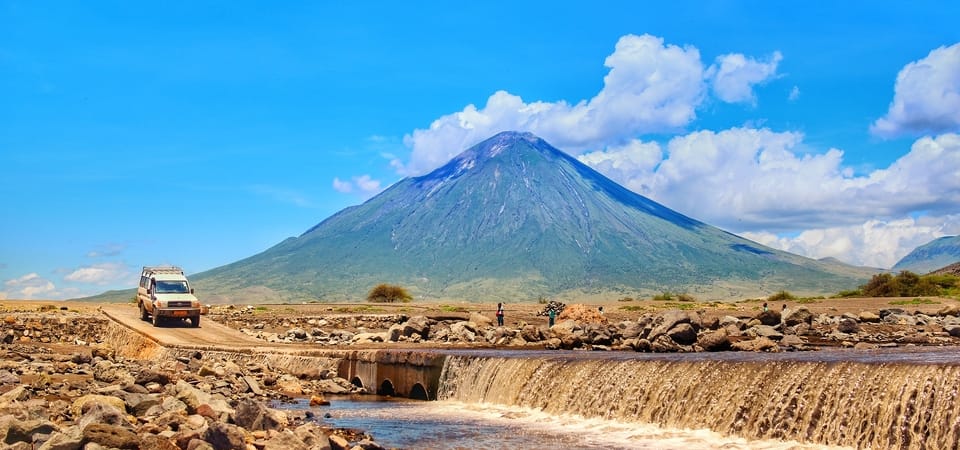 +2
Safari into the continent of Africa is always a great experience, this Tanzania camping safari Ol Doinyo Lengai trek is the best safari package that includes game viewing, cultural encounters & trekking. During this 6 days safari you will visit Lake Manyara National park, bushman at Lake Eyasi, Ngorongoro Crater & "The wild Africa" Serengeti National park before heading to Lake Natron the breeding site for flamingos, where you will have more cultural tours & Ol Doinyo Lengai trekking.
The highlights of the camping safari Ol Doinyo Lengai trek
Experience beautiful landscapes while spotting incredible wildlife that you have never encountered elsewhere on this planet.
Enjoy the cultural authenticity as you visit Bushman at Lake Eyasi & Masai village at Ngorongoro highlands & Ol Doinyo Lengai hiking.
Witness the Wildebeest Migration in Serengeti during the months of December to middle August before they cross Mara River on their way to Masai Mara in Kenya.
Spot the big cats & the Tanzanian Big 5 which includes lion, leopard, buffalo, African elephant & the rare black rhino.
Trip style
Private & comfortable safari – We provide a private safari jeep with a photographic thatched roof, and window seat guaranteed to everybody, you will have a professional safari driver guide and a well-trained private chef who will prepare all meals for you including setting your tents. This makes it a stress-free safari where you don't have to think about what to eat & where to sleep. We will provide tents, mattresses & pillows. Please come with your own sleeping bags but still, you can rent them in Arusha town at reasonable prices, you will overnight at the public campsite where bathrooms will be shared with other campers.
Tanzania camping safari Ol Doinyo Lengai trek starts when we meet you at Kilimanjaro international airport or Arusha airport and transfer to Planet Lodge in Arusha. Then we brief you on this camping safari and hiking trip before leaving you to spend the rest of the day enjoying the perfect weather of Arusha City.
Destination: Northern Tanzania
Location: Lake Manyara, Lake Eyasi, Ngorongoro Crater, Serengeti & Lake Natron
Time: Yearly around
Physicality: Long drive.
Our safari trips price starts from $175 per person per day. For more information about your specific safari trip, please get in touch with us. Click here to contact us.
4 days Tanzania camping safari for 2 to 4 person

1 night accommodation in Arusha Planet lodge or similar on B/B

Arrival & departure transfers

Transport in modified 4WD Land Cruiser with photographic hatched roof, window seats for everybody

Service of a profession English speaking safari driver guide & a chef

All meals: breakfast, lunch & dinner

1.5 litters of mineral water per person during game drives

Tents, Mattress and pillow & other gears please bring your own sleeping bag

All park fees including VAT
Flight tickets

Visa fees

Sleeping bags but can be rent in Arusha at reasonable prices upon arrival

Beverage & soft drinks

Gratitude for safari driver & cook (please tip them separately)

All items of a person nature

Flights

Travel Insurance
Distance: 30/50 km
You will be met by our safari manager at Kilimanjaro international airport or Arusha airport and transfer to Planet lodge in Arusha. After check in you will have detailed safari briefing before leave you to relax and enjoy the nice atmosphere of Arusha city.
Overnight at Planet Lodge in Arusha. Breakfast include.
Day 1: Arusha – Lake Manyara
Distance: 120 km
Non-game viewing time: 2 to 3 hours
After breakfast at your lodge Back to Africa safaris driver guide and the cook will meet you at the lobby and you will start your driving via Arusha city to Lake Manyara National Park for a game drive. Manyara park is placed at the most dramatic wildlife area in Tanzania, consisting of a huge shallow salt lake (covering almost two-thirds of the park), lying at the base of the Great Rift Valley's Western escapement.
Rich and varied habitats in this park attract a large variety of animal species including big heard of an African elephant, the famous Lake Manyara tree-climbing lions, and countless numbers of flamingos attracted by plactons in the Lake. Late afternoon drive to our private bushman campsite beside Lake Eyasi.
Overnight at Bushman Campsite in Lake Eyasi. All meals included.
Day 2: Lake Eyasi – Serengeti
Distance: 175 km
Non-game viewing time: 3 to 4 hours
On this day of your short Tanzania camping safaris, we take you for an early morning hunting with bushman including short tuition on survival skills. The bushman at Lake Eyasiare divided into small groups of Hadzebe, Tindiga and Datoga live in groups, hunting with bow and arrows, feeding on roots and wild fruits just as much as humankind lived in the stone age.
You will then leave for Serengeti National Park across Ngorongoro Conservation Area & drive down to the heart of "wild Africa" Serengeti with its endless rolling plains. You will have your packed lunch at Naabi Hill Gate before starting your en-route game drive while heading to the central park area called Soronera. Sunset game drives while searching for Wildebeest Migration if will be packed in Serengeti.
Overnight at a public campsite in Soronera. All meals included.
Day 3: Serengeti – Ngorongoro
Distance: 145 km
Non-game viewing time: 2 to 4 hours
The 3rd day of your short Tanzania camping safaris starts with an early morning game drive & spend much time in Serengeti before driving to Ngorongoro with an en-route game drive. Morning game drive in Serengeti allows you to see some predators coming back from their long night of hunting or lioness organizing an ambush and other animals waking up ready to start the new day. If the Wildebeest Migration will be in Serengeti you will straight head to where they are & spend much time with them before starting your en-route game drive toward Ngorongoro highlands. You may visit a Masai village on your way to Ngorongoro (extra cost $30 per car), reach Ngorongoro during or before the sunset.
Overnight at Simba Campsite in the Crater rim. All meals included.
Day 4: Ngorongoro Crater – Arusha
Distance: 215 km
Non-game viewing time: 2 to 4 hrs
Have early breakfast before ascending 600 meters into the Crater floor for great game viewing. The world nature wonders Ngorongoro Crater is supported by yearly around water supply and fodder which supports a variety of animals like Elephant, Buffalo, Zebra, Wildebeest, Eland, Warthog, Hippos.
The picturesque Crater has a good number of predators including lion, the ever-elusive creature Leopard, cheetah, hyena, and jackals.  After, drive back to Arusha overnight or drop off at the airport (Accommodation on this day can be included upon request with extra cost).
Our short Tanzania camping safaris can be customized to longer days & can include other parks, just give us your preference.
Having any problem booking this tour?
You may be interested to visit: