5 Days Serengeti, Ngorongoro, Tarangire & Lake Natron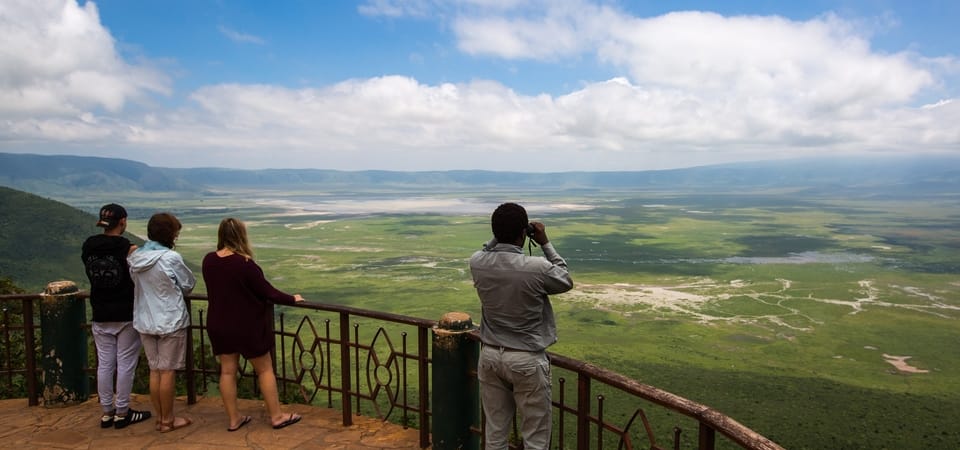 This Tanzania safari 5 days Serengeti National park, Ngorongoro will include Tarangire National park & the famous Ramsa site "Lake Natron" the place for countless flamingos. The possibility of spotting the big 5 is high & most likely you have a chance of experiencing "The Great Wildebeest Migration in Serengeti plains".
Our budget Tanzania camping safari can be combined with the best Kilimanjaro climbing package or Zanzibar beach holidays to make a lifetime adventure in Africa. Just tell us your preferences and we will customize a great package that will suit your requirements.
Trip style – Comfort & private
During this private 5 days Tanzania camping safari, you will have a professional safari driver guide as well as a trained private safari chef. We will provide camping gear i.e. Tents, sleeping mattresses & pillows. We advise you to come with your own sleeping bag, but still, there is an option of renting it out in Arusha town at reasonable prices paid once for the whole safari. You will be staying at the public campsite, where bathrooms are shared with other campers.
Meals Plan: Breakfast, lunch & dinner to be prepared by our professional safari chef, who will also be responsible for pitching your tents & so on. This is a stress-free safari you don't need to think about where to sleep what to eat etc. We also invite you to the kitchen to tell us if you have any favorites you want to be repeated.
Our package does not include accommodation in Arusha on the last day, but we have the best lodges & hotels in & around Arusha city which can go along with your budget Tanzania camping safari. Please let us know if you will need any assistance from us.
The highlights of 5 Days Serengeti Ngorongoro, Tarangire & Lake Natron
Enjoy amazing landscapes and a larger wildlife population that you have never seen elsewhere.
Experience the world phenomena "The wildebeest Migration" in the Serengeti plains.
Spotting the African Big 5 & big cats while staying in the public campsite where you can feel the wilderness
Interact with locals "Masai" when trekking the active volcanic Mountain Ol Doinyo Lengai.
Destination: Northern Tanzania
Location: Tarangire, Ngorongoro crater, Serengeti & Lake Natron
Dates: Year Around
Physicality: Long Drive
Our safari trips price starts from $175 per person per day. For more information about your specific safari trip, please get in touch with us. Click here to contact us.
1 night accommodation in Arusha at Planet lodge or similar on B/B

Transport during the safari is a modified 4 x 4 Land Cruiser with photographic roof hatch

All airport transfers/pick up & drop

Service of a Professional English speaking guide and safari chef

All meals: Breakfast, Lunch & Dinner

1.5 Mineral water per person during game drive

Overnight stays in tents during the safari

Ol Doinyo Lengai trekking with Masai guide

Tents, mattresses & pillow, please bring your own sleeping bag

All park fees as per itinerary
Accommodation in Arusha after safari

Sleeping bag

Alcoholic and soft drinks

Visa fees

Tips/gratitude for safari driver & chef

Personal spending monies for souvenirs etc.

International/domestic flights

Travel insurance
On arrival at Kilimanjaro international airport our safari manager will meet you and drive you to the hotel we book for you in Arusha or Similar. Then will go through your safari program before leaving you to relax and enjoy the lodge's facilities.
Overnight at Planet lodge in Arusha. Breakfast included.
Day 01: Arusha – Tarangire National Park
After breakfast at your lodge, meet your safari driver guide & chef then start the tour. The first stop will be in Arusha town for any last-minute purchases before driving to Tarangire National park for a game drive. Packed lunch will be served at one of the picnic sites inside the park. Tarangire is famous for its huge elephant population and giant baobab trees, you may expect to spot herds of elephants, wildebeest, zebra, giraffe, hippos, baboons, and many antelopes. Birds are abundant & you may see the three rare species of Ash staling, Great Kudu & Fringe Eared Oryx. Predators like lions, leopards, cheetah, jackals & hyenas can also be seen. The park forms the central annual migratory cycle within the Tarangire Lake Manyara ecosystem that includes up to 3000 elephants, 25,000 wildebeest, and about 30,000 zebras. Late Afternoon you will drive towards the base of the Great Rift Valley overnight.
Overnight at Lilac campsite close to Lake Manyara or similar. All meals include.
Day 2: Tarangire – Ngorongoro crater
Your 5 days Serengeti Ngorongoro, Tarangire & Lake Natron tour continues after breakfast, you will drive to Ngorongoro Conservation Area & descend 600 meters into the crater floor for a game drive. Ngorongoro Crater is a rich area with enough water & fodder to support a vast variety of animals which includes wildebeest, zebra, buffalo, eland, warthog, hippos, and giant African elephants. The Crater is home to some rare species of black rhino living in their natural habitat perhaps this is among few areas where you can see rhinos in the natural wilderness.
Another interesting part of this picturesque Caldera is its denser population of predators, which includes lions, cheetahs, hyenas, Jackal, and the ever-mysterious leopard, which sometimes needs a binocular eye to spot. You will visit Lake Magadi, a large but shallow alkaline lake in the southwestern corner which supports a large number of flamingos and other water birds.
Overnight at Ngorongoro Simba Campsite. All meals included.
Day 3: Ngorongoro – Serengeti National park
After breakfast drive around the Crater rim and down to "The wild Africa" Serengeti National park with its endless rolling plains. Then move to the central park area, called Seronera, named after the river which is a valuable source of water in the area, therefore, attracting a larger number of wildlife species in the Serengeti Masai Mara ecosystem. This is among the richest habitats in Serengeti with a lot of animal actions. Packed lunch to be served on the way before embarking for sunset game drive in the Serengeti national park.
Overnight at Seronera Campsite Central Serengeti. All meals included.
Day 4: Serengeti National Park – Lake Natron
Today the 5 Days Serengeti Ngorongoro safari we take you for an early morning game drive which can allow you to see some nocturnal animal coming back from their long night of hunting, or a group of lionesses organizing a morning ambush. If the Wildebeest Migration will be packed in Serengeti then you will go straight to where they are & spend much time with them before starting your en-route game drive towards the Northern Serengeti. Check out at Klein's gate & drive to Lake Natron arriving late afternoon and go for a walk along the Lakeshore during the sunset if time permits. You will have early dinner and sleep a bit before your driver wakes you up to be ready for the night summit at Odoinyo Lengai Mountain.
Overnight at Lake Natron Campsite. All meals included.
Day 5: Lake Natron – Arusha
Night ascent & dawn summit bid, Ol doinyo Lengai Mountain (seismic conditions permitting). Optional waterfall hike and swim (Depending on your flight time). After drive to Arusha for airport drop off or overnight. (Extra cost for the overnight accommodation)
Tanzania Safari 5 days Serengeti Ngorongoro including Tarangire & Lake Natron is the best tour that combines wildlife safari, hiking trip & sightseeing.
***End of Service***
Having any problem booking this tour?
You may be interested to visit: